Winter keeps us waiting this season. The only ski slopes currently open near the Brasov area are the high altitude slopes from Sinaia!

So, if you're looking for a place to ski this Christmas in Romania, Sinaia Cota 2000 is the place to be. There are currently 3 slopes open: Laptici 1, Laptici 2 and Varianta. To reach this slopes you have to:
-> Drive to the Sinaia Cota 1000 gondola departure point;
-> Ride the gondola to Cota 1400;
-> Switch for the Sinaia Cota 2000 gondola!
Skiing and snowboarding is currently only available in Valea Soarelui (The Sun Valley) and Valea Dorului (Dorului Valley). This is why you have to use the Sun Valley chairlift to reach back the top of Sinaia Cota 2000.
Book Your Lessons Now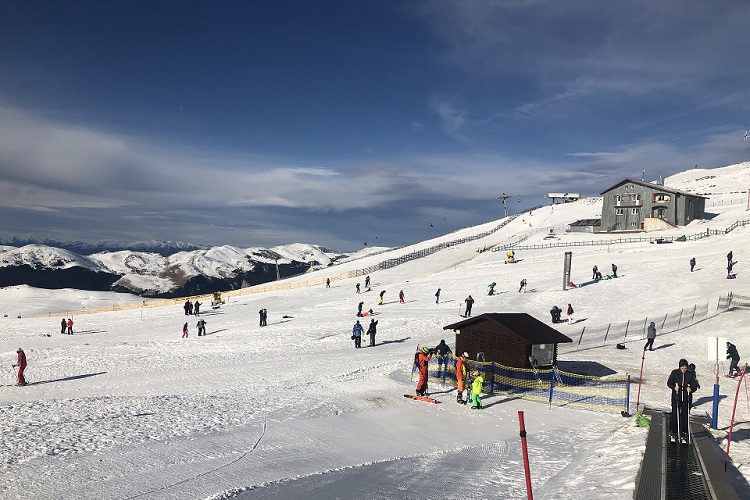 From Brasov, the drive to Sinaia is 1-hour long under normal traffic conditions (only available very early in the morning or late in the evening). If can't wake up early in the morning you might get lost in the crowds and spend up to 3 hours in traffic. More. you'll also have a hard time in finding a parking spot at the Sinaia Cota 1000 gondola.
Costs For A Ski Day In Sinaia
All the prices listed below are per person:
1. Parking: 15 RON (3.15 EUR / 3.5 USD / 2.67 GBP )
2. Ski Equipment (Ski Boots, Skis, Poles, Helmet): 60 – 80 RON (13 – 17 EUR / 14 – 18 USD / )
3. Ski Pass (Day Pass): 145 RON (30 EUR / 34 USD / 26 GBP)
4. Food & Drinks: 30 – 50 RON (6 – 10 EUR / 7 – 11 USD / 5 – 9 GBP)
5. Ski Lessons: 250 – 500 RON (50 – 100 EUR / 55 – 110 USD / 45 – 90 GBP)
To book ski lessons in Sinaia please contact us via direct phone call, WhatsApp or SMS at +40721817452. We provide complete day trip packages which include transportation from Brasov, Bucharest or other nearby cities, ski clothing, ski equipment, ski passes and half or full-day ski lessons. Of course that any other travel related assistance and info is included!
Important: First-timers, beginners, intermediate and advanced skiers / snowboarders are welcomed!