Ski lessons on Bradul ski slope in Poiana Brasov have been ongoing today. Weather was gorgeous, sunny and cold. Temperatures ranged from -10°C early in the morning to -7°C at noon in Poiana Brasov!
In the Postavaru Massif it was even colder and the snow guns continue to worked in the lower part of the mountain as well as the beginner ski slopes from the bottom of the resort!
Ski slopes have been in perfect conditions at the top of the Postavaru Massif. We've posted some great pictures on social media in the morning. You can check them on Instagram over here:
What do you think? Is it a good time to improve your skiing / snowboarding skills. We say it's one of the best time of the year. Good snow and no crowd! These are ideal conditions for ski and snowboard lessons. You can go ahead and book yours now:


Ski Lessons On Bradul Slope
Below you can take a look at Rares, checking out the beginner's Bradul slope, before his first run down from the top of the slope. Thumbs up for him please!
The Stars Of The Day
Snow guns have been the heroes of today too. Skiing and snowboarding conditions have greatly improved in Poiana Brasov and all this thanks to the huge snowmaking efforts made by the administrators.
Fact: Temperatures continue to remain below freezing level so we expect snow making to continue in the upcoming days!
January 12 Weather Forecast For Poiana Brasov
Below you can take a look at the weather forecast for the next 14 days.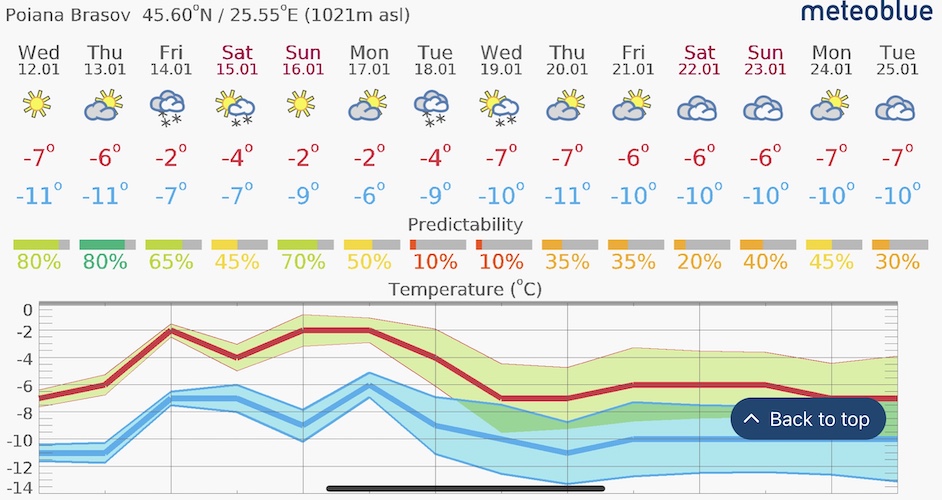 Do you have any questions regarding skiing and snowboarding in Poiana Brasov? Contact Us!